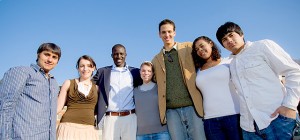 Curious about diversity at Wake Forest? We offer several opportunities to explore our diverse community. If you are interested in learning more about multicultural life, join us for one of our prospective student diversity recruitment events:
Wake Forest VIP Program – Meet us in your backyard, or close to it! Each fall, Wake Forest University hosts diversity recruitment events during our travel season. The VIP diversity recruitment programs take place off-campus in cities along the east coast. VIP is open to high school seniors and their families. For more information about locations and to request your space in the program, please visit our VIP Program website.
Wake Forest Visions Program – Visit us at the Forest! Visions is our on-campus diversity overnight event. The program is open to prospective seniors and families. Visions will take place October 13-14 and November 10-11 this year.  Students must apply to attend the Visions overnight program. For program and application information, please visit our Visions Program website.
We look forward to seeing you!
Hattie L. Mukombe '04, MA '11
Starting today, we will summarize the Admission Committee's weekly travels in our Travel Tuesday posts. From quick rundowns of where we will be this week and next to interesting tidbits we have learned on the road, we will share them here with you. Note that many of the visits will take place in surrounding communities of the cities listed below. If your school hosts college visits during the school day or is holding a college night, check with your guidance or college counselor to see whether we will be in attendance. We look forward to meeting with you!
This Week: Atlanta, GA; Birmingham, AL; Dallas/Fort Worth, TX; Asheville, NC
Next Week: Ecuador; Portland, OR; Seattle and Tacoma, WA; Philadelphia, PA; Columbia, SC; Raleigh, Chapel Hill, Burlington, Fayetteville and Charlotte, NC; Western North Carolina