December 21 is the final day the Office of Undergraduate Admissions will be open in 2017. We will reopen on Tuesday, January 2, 2018. Collectively, we are all looking forward to spending extended time with our families before the application review season begins. While applying to college is necessary and a touch stressful, we hope that you are able to find the time these final days of the year to clear your head and wander about for a bit. Spend time with family and friends. Go outside! Read a book or two. Get away from all monitors (from handheld to computer to television). We know that your application is important and we respect that this process means so much to you. That said, it is just one of many vital tasks you will complete over the course of your life. You are going to get into college and that school will undoubtedly be a terrific place to learn and grow. So take a deep breath and relax this holiday season. You've earned it.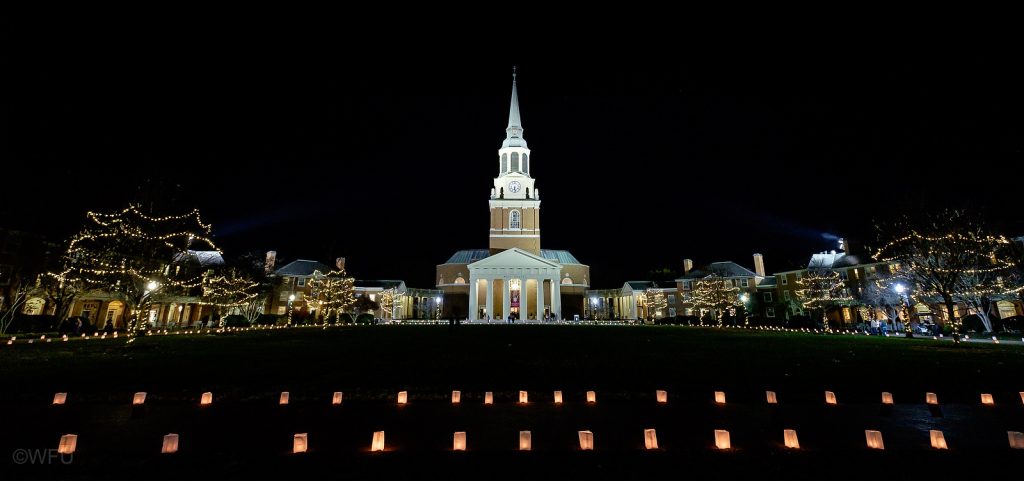 What follows are some things to keep in mind relating to our process as you work to finalize your application:
If January 1 comes and goes and you find that your application was officially submitted after midnight, please do not panic. We fully expect that the Common Application, the Coalition application, and our own online application portal will be especially busy all day on Monday, January 1. Give yourself ample time but do not worry if technical difficulties hamper your ability to submit prior to midnight (remember – you do have all day on 1/1/18 to work on your application!).
You may apply to Wake Forest using our online application, the Common Application, or the Coalition Application.

Students who apply through our Wake Forest application will receive a link to their application status page upon submission.
Students who apply through the Common or Coalition applications will receive an email with instructions on how to access your application status page.

Please give us until February 1 before reaching out with questions about the status of your application. It can take a few weeks for applications and supporting materials, regardless of whether they were submitted online or via mail, to be fully processed and entered into our system.

We do not track the receipt of supplementary materials (documents or items that are not required as part of our process). Trust that if you or someone on your behalf submits to us additional information beyond that which is required, it will successfully be added to your application.

On interviews – interviewing has concluded for the year. There are no additional appointments available. We do not offer alumni interviews. Many students will be offered admission who did not interview with us. Take advantage of the short response prompts on our application and supplement to thoughtfully share your interests and ideas with us.
Because we begin reviewing applications in earnest when we return in January, we are unable to meet individually with applicants who visit campus in the winter months. We are grounded, locked in our offices reading your responses, evaluating your transcripts, reviewing your recommendations. Thank you for understanding.
It is not too late to apply for financial aid at Wake Forest under any admission option, though you should apply as soon as possible. For complete application instructions, visit financialaid.wfu.edu.
Early Decision II applicants – everything above applies to you as well! ED II decisions will be mailed no later than February 15 (unlike with our Early Decision plan, our ED II and Regular Decision admission plans are not rolling).
We wish you great luck throughout this process and a Happy New Year.
Recent Posts
July 26, 2021

July 11, 2021

June 28, 2021