December 22 is the final day the Office of Undergraduate Admissions will be open in 2015. Though most high schools have also closed for the year, I've interviewed a handful of folks who will be in class through Wednesday – you've almost made it! The Admissions Committee here knows that so many of you are finalizing applications and preparing submissions before the January 1 application deadline. Some things to keep in mind relating to our process are as follows:
Review the previous three blog posts – information on everything from how to track the status of your application to how we process your materials and everything in between is covered!
On interviews – interviewing concludes on the December 22. There are no additional appointments available. We do not offer interviews with local alums. There are no exceptions to this rule simply because we must now move on to the task of reviewing applications.
Because we begin reviewing applications in earnest when we return in January, we are unable to meet individually with applicants who visit campus in the winter months. We'd like to (trust me!) – but we're grounded, locked in our offices reading your responses, evaluating your transcripts, reviewing your recommendations. Full concentration required!
You will not receive an email from us acknowledging receipt of your application, but …
You may track your own application status through your Window to Wake Forest account page (instructions for doing so are included in the previous post). It is important to remember that items submitted will not instantly appear on your Window. Please give us until February before contacting us regarding your application status. In the meantime, check your Window periodically – items will populate as received and processed throughout the month (we cover the timing of when applications will be processed here). You will receive an email from our office once your application is complete and ready for review.
If January 1 comes and goes and you find that your application was officially submitted after midnight, do not panic. We fully expect that both the Common Application and our own online application portal will be especially busy all day on Friday, January 1. Give yourself ample time but do not worry if technical difficulties hamper your ability to submit prior to midnight.
Review the previous three blog posts again! We think they contain information worth knowing!
While applying to college is necessary and a touch stressful, we hope that you are able to find the time these final days of the year to clear your head and wander about for a bit. Go for a nice long walk (and leave your device at home!). Indeed, your application is important and we respect that this process means so much to you. That said, it is just one of many vital tasks you will complete over the course of your life. Keep things in perspective. Have belief that come April you will have terrific options to consider. There are literally hundreds of wonderful colleges and universities out there. You'll undoubtedly find yourself somewhere you love come August. We wish you great luck going forward and Happy New Year.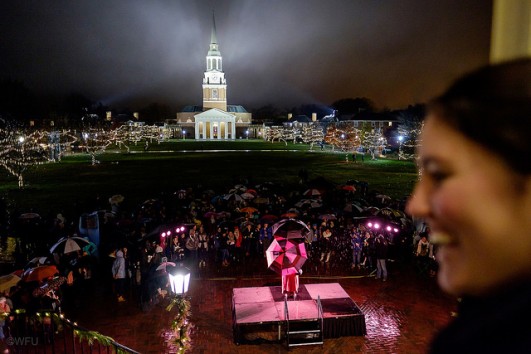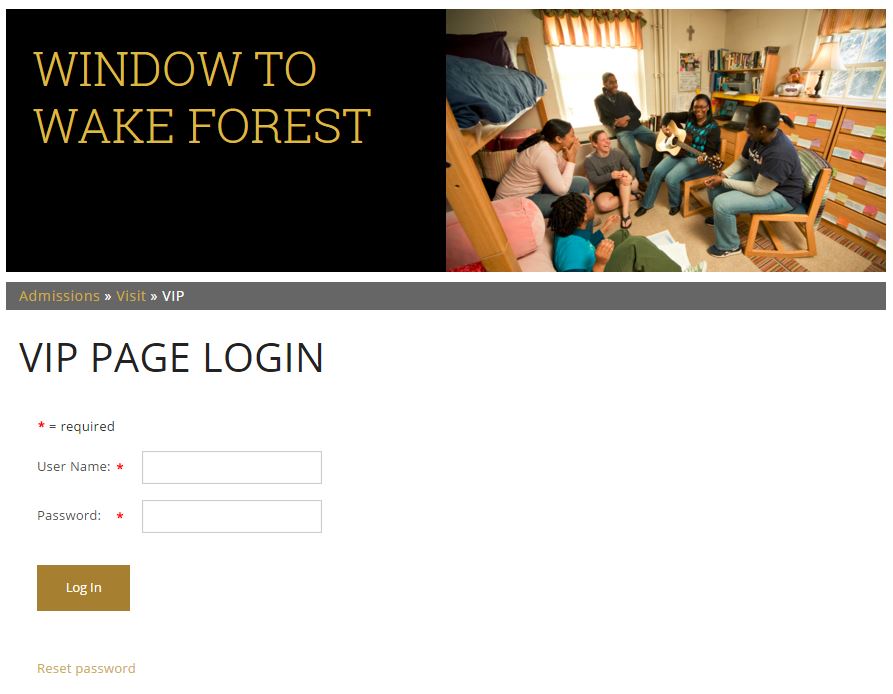 Want to check the status of your application? Even if doing so for the very first time, logging into your Window to Wake Forest account page is simple. If you know your user name and password, enter each and proceed. If you have never accessed your WtWF account, click "reset password" and enter in the same email address as that which you included on your application. Login instructions with a temporary password will be emailed to that address.
A checklist of application items received and processed can be found on the top left side of the page. Be sure to read our "Message from Admissions" on the top right side for important information and updates. Please also review our previous posts carefully as they include detailed information on how we process applications. Thanks!
We are not trying to incite panic – there are still over two weeks to go until January 1! However, midnight on New Year's Day will be here before you know it. Between studying for exams and finding that special gift for a loved one, we know that many of you are working hard on your application.
What follows is important information for all regular decision applicants to Wake Forest. First, remember that you are allowed to work on your application all day on Friday, January 1. If you experience a technical issue and your application is not officially submitted until 12:15 a.m on Saturday the 2nd, please do not worry. No need to contact us or to apologize – we understand that technical issues can and do happen and your application will not be looked upon negatively in any way.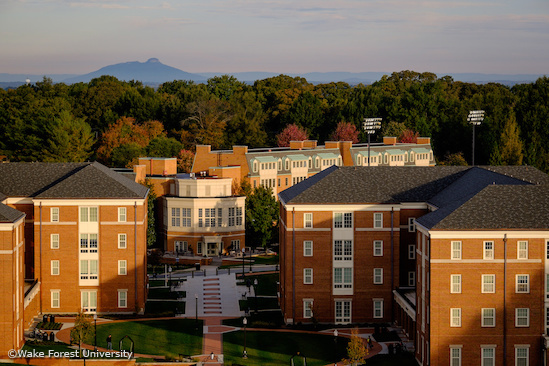 We think that you might find it valuable to understand how we process applications. Assembling the pieces of your application takes a great deal of time. We are (still!) an Admissions Committee that reads "on paper." This means that every application, transcript, report, and essay must be printed (because almost every document is submitted online), filed, and then manually checked before your application is cleared for review. It will take a few weeks for applications, regardless of whether they were submitted online or via mail, to be processed and entered into our system. With January 1 falling on a Friday this year, the processing of most applications submitted the final two weeks of the year will not even begin until January 4 (our office is closed December 23 through January 3).
Because of this, we ask that you not contact our office to check that your application has been received. We do not email students a confirmation stating that we have received your application (we will send you an email once your file is complete and ready for review). Instead, we encourage you to track your own application status on your Window to Wake Forest account page. After February 1, if you feel that your Window does not accurately reflect what you or your school submitted on your behalf, please contact our office. We will either assure you that the documents have successfully arrived or will suggest a secondary method of submitting what is missing. We will also send you a reminder email in February with a list of the required components of your application that we have yet to receive. Even if you do not plan on tracking your application status via your Window, please visit the link above to add or edit your primary email address (making sure that the one you add is identical to that you presented on your application). Finally, be sure to check your spam folder in February and March for emails from all of the colleges to which you are applying.
We do not track the receipt of supplementary materials (documents or items that are not required as part of our process). Please do not contact us asking whether these items have arrived. Trust that if you or someone on your behalf submits to us additional information beyond that which is required, it will successfully be added to your application. That said, understand that items beyond your application, school report, transcript, and teacher recommendation will play a small role (if any) in how your application is evaluated.
Applications from students who apply but were unable to schedule an interview will be marked complete and ready for review later in January after all other materials are received and processed. Until then, your checklist will indicate "incomplete" even if all required components have been received. For those who applied by our December 1 scholarships deadline, know that even though your application will not be marked complete until later in January, it will still be considered for all of our merit-based scholarship programs.
We will continue to provide updates throughout the review season here on the blog. Good luck and Happy Holidays from all of us on the Admissions Committee at Wake Forest!