Students have been submitting applications throughout Thanksgiving weekend. How do we know? Holiday or not, folks on our staff have been working to download and begin processing applications. You've given us a lot of work to do!
We understand that many of you will be anxious to know that your application materials have been received. Please give us time. We still download and print application materials, carefully checking to see that necessary documents are properly tracked. Our goal is to have materials submitted around the December 1 deadline processed by the middle of the month. Continue to check your Window to Wake Forest portal but understand that items may not be checked as "received" until later this month.
Remember you have all of the 1st to work on your application (and if you hit submit a couple of minutes after midnight local time, we'll still accept it!). Good luck!
Last week, we announced on our Personal Interviews webpage that all webcam appointments are booked through the remainder of our interview season and that requests for interviews via Skype will no longer be scheduled. Sunday, November 15 is the last day to request an on-campus interview appointment with us and there are but a few openings remaining. On-campus interview requests continue to be scheduled in the order they are received and we receive dozens of requests daily – it is highly likely we will run out of availability very soon.
Students who have recently or who later submit a request for an interview via webcam will not receive a confirmation email from us. Requests for interviews on campus will receive a response (either positive or negative depending on availability) through November 15 or until we announce that there are no remaining openings. We frequently receive requests for interviews by email and telephone – such requests cannot be accommodated. Finally, we do not offer regional alumni interviews.
Now, please repeat after me: "Even though I was unable to schedule an interview, I can still be admitted." We know that we will not meet with every applicant and will necessarily be offering admission to a great number of students who have not interviewed. Last year, a shade over half of our applicant pool conducted an interview. This year, we were able to schedule almost every single interview request that we received from June 1 through early October, yet continuing to do so always proves difficult as demand increases deeper into fall. We do not judge you on your failure to schedule an interview earlier – we respect that your interest in Wake Forest may be a recent development. Unfortunately, with reading season dawning we necessarily must stop interviewing soon and as such cannot accommodate everyone.
"So what can I do now?" This is a question we hear often. Fortunately, we offer other ways for you to show us a different side of yourself. Seven other ways, in fact. When preparing your essay and your answers to the six short response prompts on our application or Common Application supplement, take advantage of the opportunity to give us a glimpse into what drives you intellectually. Tell us what you've read, what you've done, what you think. About what? About any and everything that is important to you. Collectively, the Wake Forest Admissions Committee has over 100 years of experience reviewing applications – we're good at evaluating your stories and seeing all you have to offer. Seek to be as thoughtful with your responses as you believe you would be to questions in an interview. We look forward to learning more about you during application review.
With a trio of application deadlines on the horizon (November 15 – Early Decision and Presidential Scholarship for Distinguished Achievement; December 1 – Merit-Based Scholarships), I want to remind everyone about our Window to Wake Forest portal and how you can track your own application status.
The Window to Wake Forest is an online portal which allows you to learn more about areas of specific interest. The Window includes a checklist of application materials, allowing you to track the status of your application. You can register for campus admissions events on your Window as well. Finally, the Window is our primary means of informing prospective students of any and everything application related. We update our "Message from Admissions" whenever we have important information to share.
Everyone's Window basically looks the same as mine but the information on it is unique to you. A week or so after you apply, a checklist of received and missing materials will appear under the "My Wake Forest University Application" section. As you can see, I have yet to apply to Wake Forest (but I have created an account!).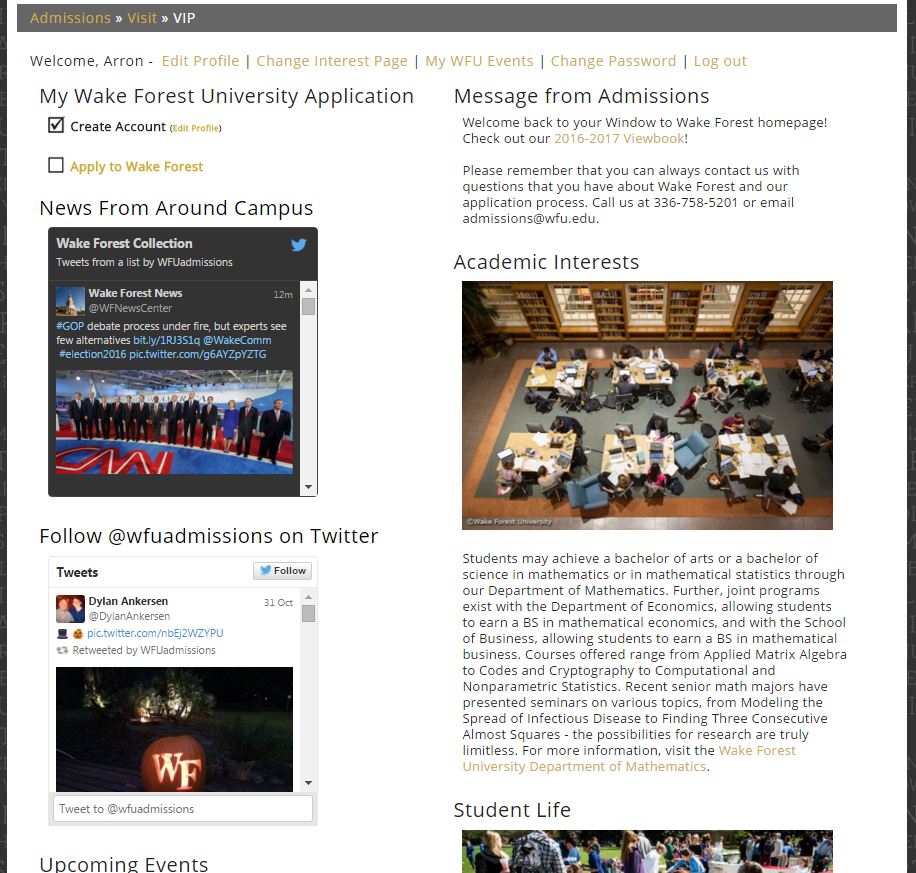 So if you have a Window to Wake Forest account, log in here to keep up with your application status. If you don't have an account, create one here – it takes but a few minutes and we think you will find the tools useful.