An important question on our application asks whether or not you wish for your test scores to be considered during application review. This question pertains to SAT – Reasoning Test and ACT results only. Applicants need to remember that in order for us to consider these scores you must request that they be sent to us directly from the College Board or ACT. We do not accept self-submitted scores for these two tests. If you checked "consider" and have yet to request that your scores be sent to us, your application will sit at incomplete until they have been received and processed.
If you do not want your SAT – Reasoning Test or ACT results reviewed and checked "consider" because you want us to evaluate your SAT II or AP test results, please contact us and let us know that you wish to change your answer to "Not Submitting Test Scores For Consideration." Fear not – we will still review the SAT II or AP scores that you may have disclosed to us on your application. We will change your test preference and, if all other materials have been received, mark your application complete and ready for review.
Changes can be made by email (admissions@nullwfu.edu) or telephone (336-758-5201).
It is the end of the first week of January and we have been busy downloading applications and supplementary materials submitted last week from both the Common Application and our own online Wake Forest application. Our servers are holding up and the copier maintenance folks have stopped by but one time for a small repair! I can promisingly say that we are working through things at a healthy pace.
The vast majority of all materials are sent to us online but we do still receive a good amount via mail. The online materials are, for the most part, automatically pushed into our database, though it doesn't all happen with one keystroke. Check after check after check is performed before a student's application is merged with their school report, teacher rec, transcript, etc.. Mailed materials must be manually entered into our system. On the opposite side of our processing floor, documents are printed and then manually filed, one application at a time. It is a lengthy process but one which allows us to set eyes on your application materials numerous times to ensure we have all that is required. Trust me when I say that we have wonderful folks who truly work hard preparing your application for evaluation.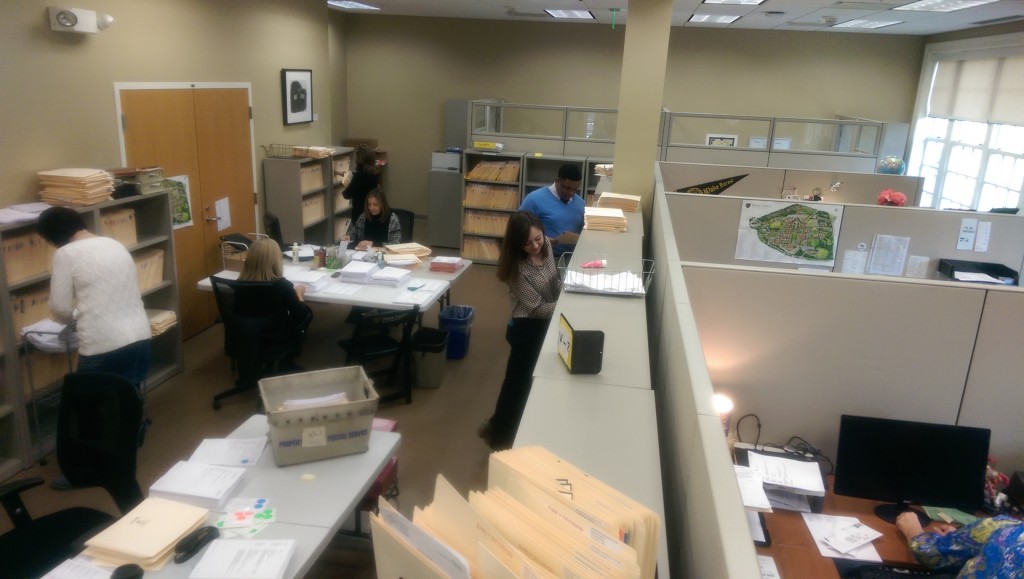 On your end, you are checking (or should be!) your Window to Wake Forest page to verify that we have received all of your application materials. Good! We want you to do this. Our hope is to have every document, whether submitted electronically or via good old-fashioned mail, entered into our database and added to your physical application file by February 1. As noted in mid-December, we will begin removing "interview" from the checklists of all who did not have one soon which will in turn "complete out" a number of applications.
Should February 1 come and go and your Window not accurately reflect what you or your school submitted on your behalf, please contact our office. We will either assure you that the documents you are inquiring about have successfully arrived or will suggest a secondary method of submitting what is missing. Please do not contact us beforehand, however. Just because the materials are not showing up in your Window does not necessarily mean they have not arrived. Allow us the chance to work through the hundreds of thousands of pages of material we received over the holidays.
Next week, it will be all hands on deck processing applications. Soon, however, the task of reading what is a record number of applications will be at hand. We are still counting and as such I am not prepared to disclose exactly how many more applications we received this year than in any year in our history, but it is a big number. Like all college admission committees, ours will soon be hunkering down and will remain committed to the task of reading applications through the month of March. The time for meeting individually with students (and heck, with our own families!) has come to an end. Reading season is here.
Thanks to all who have applied to be a member of the class of 2019. I promise that your application will be reviewed both carefully and thoughtfully.