Main Content
It's the most important email … of the year! Ok, not at all true, but what follows is good information for all regular decision applicants to Wake Forest. January 1 is almost here and with it, 2015 and our regular decision application deadline. You are allowed to work on your application all day on Thursday, January 1 before clicking submit. If you experience a technical issue and your application is not officially submitted until after the stroke of midnight, please do not panic. There is no need to contact us or to apologize. We understand that technical issues can and do happen – your application will not be looked upon negatively in any way.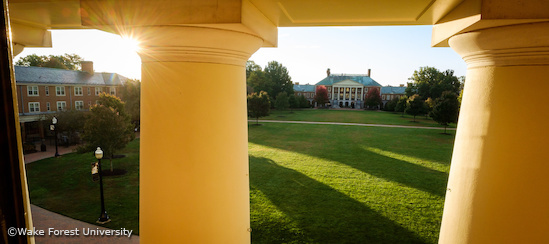 We would like to give you some insight on how we process applications. Assembling the pieces of your application takes a great deal of time. We are an Admissions Committee that still reads "on paper," meaning every application, transcript, report, and essay must be printed, filed, and then manually checked before your application is cleared for review. It will take a few weeks for applications, regardless of whether they were submitted online or via mail, to be processed and entered into our system.
We ask that you not contact our office to check that your application has been received. We do not email students confirmations stating that we have received your application. Instead, we encourage you to track your own application status on your Window to Wake Forest account page. After February 1, if you feel that your Window does not accurately reflect what you or your school submitted on your behalf, please contact our office. We will either assure you that the documents have successfully arrived or will suggest a secondary method of submitting what is missing. We will also send you a reminder email in February with a list of the required components of your application that we have yet to receive. Even if you do not plan on tracking your application status via your Window, please visit the link above to add or edit your primary email address. Finally, be sure to check your spam folder in February and March for emails from the colleges you are applying to!
We do not track the receipt of supplementary materials (documents or items that are not required as part of our process). Please do not contact us asking whether these items have arrived. Trust that if you or someone on your behalf submits to us additional information beyond that which is required, it will successfully be added to your application. That said, understand that items beyond your application, school report, transcript, and teacher recommendation will play a small role (if any) in how your application is evaluated.
Applications from students who apply but were unable to schedule an interview (see our previous post – interview appointments are no longer available) will be marked complete and ready for review later in January after all other materials are received and processed. Until then, your checklist will indicate "incomplete" even if all required components have been received. For those who applied by our December 1 scholarships deadline, know that even though your application will not be marked complete until later in January, it will still be considered for all of our merit-based scholarship programs.
We will continue to provide updates throughout the review season here on the blog. Good luck and Happy Holidays from all of us on the Admissions Committee at Wake Forest!
Recent Posts
July 6, 2020

June 9, 2020

May 4, 2020