This is going to be our last post of 2014. We know that high school seniors across the country are finalizing applications and preparing submissions before the January 1 application deadline. I sincerely wish all of you a wonderful 2015 and the best of luck throughout this college admissions process.
Things to keep in mind include:
Review the previous three blog posts – everything from interview availability to information on tracking your application status is covered.
On interviews – there are no additional appointments available. We do not offer interviews with local alums and are no longer accepting appointments. There are no exceptions to this rule simply because we must now move on to the task of reviewing applications.
You will not receive an email from us acknowledging receipt of your application.
You may track your own application status through your Window to Wake Forest account page. However, items submitted will not instantly appear on your Window. Please give us until February before contacting us regarding your application status. In the meantime, check your Window periodically – items will populate as received and processed throughout the month.
If January 1 comes and goes and you find that your application was officially submitted after midnight, do not panic. We fully expect that both the Common Application and our own online application portal will be especially busy all day on Thursday. Give yourself ample time but do not worry if slow response times hamper your submission.
I wish I could offer some profound advice at this point but I can't. If I could encourage you to do anything at all it would be to take a nice long walk. Leave your device at home, clear your head and wander for a bit. Yes, your application is important and I respect that preparing it is a stressful endeavor. That said, it is just one of many vital tasks you will complete over the course of your life. Keep things in perspective. Have belief that come April you will have terrific options to consider. There are literally hundreds of wonderful colleges and universities out there. You'll undoubtedly find yourself somewhere you love come August. Again, good luck and Happy New Year.
It's the most important email … of the year! Ok, not at all true, but what follows is good information for all regular decision applicants to Wake Forest. January 1 is almost here and with it, 2015 and our regular decision application deadline. You are allowed to work on your application all day on Thursday, January 1 before clicking submit. If you experience a technical issue and your application is not officially submitted until after the stroke of midnight, please do not panic. There is no need to contact us or to apologize. We understand that technical issues can and do happen – your application will not be looked upon negatively in any way.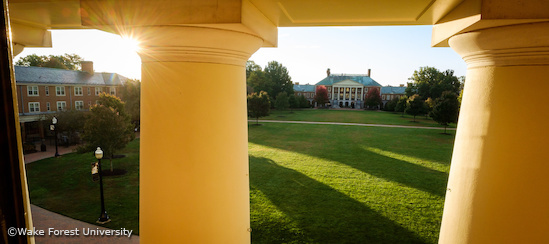 We would like to give you some insight on how we process applications. Assembling the pieces of your application takes a great deal of time. We are an Admissions Committee that still reads "on paper," meaning every application, transcript, report, and essay must be printed, filed, and then manually checked before your application is cleared for review. It will take a few weeks for applications, regardless of whether they were submitted online or via mail, to be processed and entered into our system.
We ask that you not contact our office to check that your application has been received. We do not email students confirmations stating that we have received your application. Instead, we encourage you to track your own application status on your Window to Wake Forest account page. After February 1, if you feel that your Window does not accurately reflect what you or your school submitted on your behalf, please contact our office. We will either assure you that the documents have successfully arrived or will suggest a secondary method of submitting what is missing. We will also send you a reminder email in February with a list of the required components of your application that we have yet to receive. Even if you do not plan on tracking your application status via your Window, please visit the link above to add or edit your primary email address. Finally, be sure to check your spam folder in February and March for emails from the colleges you are applying to!
We do not track the receipt of supplementary materials (documents or items that are not required as part of our process). Please do not contact us asking whether these items have arrived. Trust that if you or someone on your behalf submits to us additional information beyond that which is required, it will successfully be added to your application. That said, understand that items beyond your application, school report, transcript, and teacher recommendation will play a small role (if any) in how your application is evaluated.
Applications from students who apply but were unable to schedule an interview (see our previous post – interview appointments are no longer available) will be marked complete and ready for review later in January after all other materials are received and processed. Until then, your checklist will indicate "incomplete" even if all required components have been received. For those who applied by our December 1 scholarships deadline, know that even though your application will not be marked complete until later in January, it will still be considered for all of our merit-based scholarship programs.
We will continue to provide updates throughout the review season here on the blog. Good luck and Happy Holidays from all of us on the Admissions Committee at Wake Forest!
December 1 was the final day to request an interview with a member of our Admissions Committee. Because of overwhelming demand for Skype interviews, we added a note on the interview request form back in early November stating that all webcam interview slots were full through the end of our interview season and that requests for webcam interviews could no longer be scheduled. Thus, if you asked for a Skype interview we will not be able to accommodate you.
If you made a request for an interview (Skype or on campus) by the December 1 deadline and have not heard from us, you will … but give us time. Again, Skype requests cannot be met and the response will indicate this. Our interview coordinator will be poring over our calendars to find spots to schedule those of you who wish to travel to campus however many of these requests will not be granted because of limited availability. Emails will go out in the order requests were received through next week. If you made a request after December 1 you will not receive a confirmation email from us. Finally, we do not offer alumni interviews.
Now the rub – if you don't get an interview, you could still be admitted. We enter into our interview season June 1st knowing full well that we will not interview everyone who will apply. Each year, we are able to honor almost every single interview request that we receive through the first weeks of November but, invariably, interest picks up later in the month and we must turn some folks away. We could hem and haw about how you had over seven months to schedule your interview but we get it – your interest in Wake Forest may be a "new thing." Unfortunately, with reading season dawning we necessarily must stop interviewing soon and as such cannot accommodate everyone.
Fortunately, we offer other ways for you to show us a different side of yourself. Seven other ways, in fact. When preparing your essay and your answers to the six short response prompts on our application or Common Application supplement, take advantage of the opportunity to give us a glimpse into what drives you intellectually. Tell us what you've read, what you've done, what you think. About what? About any and everything that is important to you. We are pretty good at "reading" people (literally … combined our Admissions Committee has over 100 years experience reviewing applications!). Seek to be as thoughtful with your responses as you believe you would be to questions in an interview. We look forward to learning more about you during application review.