Main Content
As we close in on our first application deadline of the year (November 15 – Early Decision) and with more and more regular decision applications arriving daily, I figure it is a good time to remind prospective applicants about our Window to Wake Forest.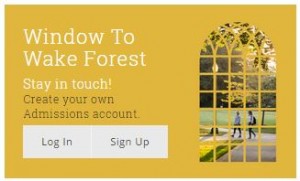 The Window to Wake Forest is an online portal which allows you to learn more about areas of specific interest. The Window includes a checklist of application materials, allowing you to track the status of your application. You can register for campus admissions events on your Window as well. Finally, the Window is our primary means of informing prospective students of any and everything application related. It's basically a geyser of knowledge at your disposal (hyperbole intended!).
So if you have a Window to Wake Forest account, log in here and check it out – we've recently added some content and made some changes. If you don't have an account, create one here – it takes but a few minutes and we think you will find the tools useful. We look forward to seeing you online soon!
Recent Posts
August 4, 2020

July 6, 2020

June 9, 2020