Main Content
From a practical standpoint, the most useful piece of information for current early decision applicants to Wake Forest on your Window to Wake Forest page is the "My Wake Forest University Application" checklist located in the upper left hand corner. Here's a screenshot of my own page – note that I haven't applied (I graduated already!) thus mine merely asks to "Apply to Wake Forest" again!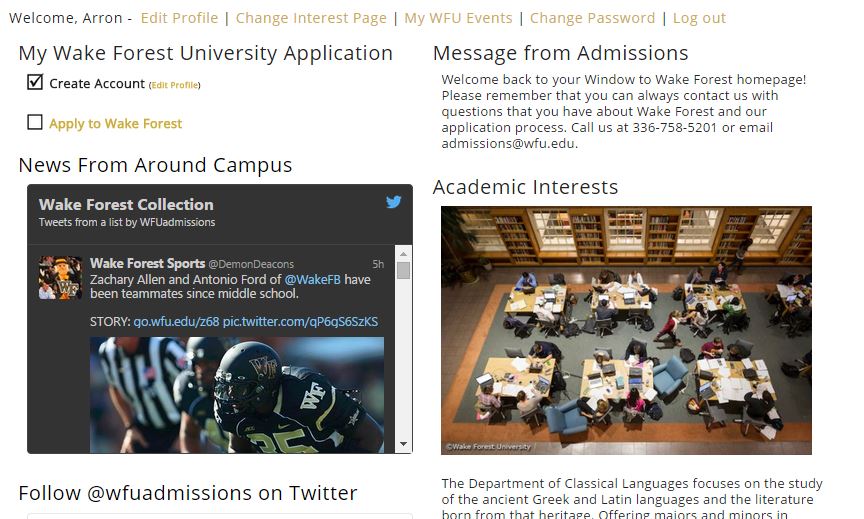 If you are an early decision applicant, you should be looking up your checklist periodically. After a week or so of having submitted your application, your checklist should start to populate. If, after a couple of weeks of thinking that everything has been submitted (application, supplement (if using the Common App), application fee, school report, transcript, teacher recommendation and early decision agreement) you think that something may be awry, reach out (336-758-5201 or admissions@nullwfu.edu). We'll figure out where things stand and together move things forward with your application.
The confirmation letter that we send out states that we have received your application and describes our binding early decision requirements in full. It does not state that your application is complete and ready for review. Once it is complete, we seek to have a decision to you inside of six weeks. We know that you have all worked hard on your application. I assure you we are processing and reviewing your applications thoughtfully as well.
Recent Posts
August 4, 2020

July 6, 2020

June 9, 2020