From a practical standpoint, the most useful piece of information for current early decision applicants to Wake Forest on your Window to Wake Forest page is the "My Wake Forest University Application" checklist located in the upper left hand corner. Here's a screenshot of my own page – note that I haven't applied (I graduated already!) thus mine merely asks to "Apply to Wake Forest" again!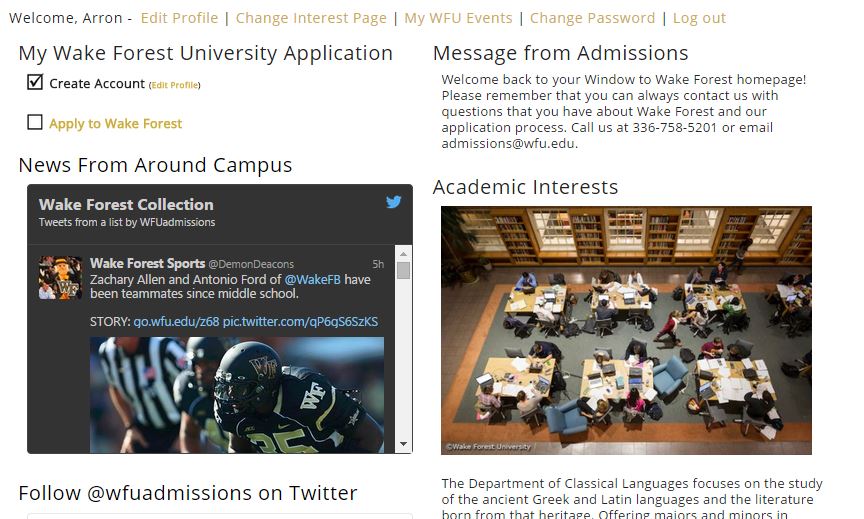 If you are an early decision applicant, you should be looking up your checklist periodically. After a week or so of having submitted your application, your checklist should start to populate. If, after a couple of weeks of thinking that everything has been submitted (application, supplement (if using the Common App), application fee, school report, transcript, teacher recommendation and early decision agreement) you think that something may be awry, reach out (336-758-5201 or admissions@nullwfu.edu). We'll figure out where things stand and together move things forward with your application.
The confirmation letter that we send out states that we have received your application and describes our binding early decision requirements in full. It does not state that your application is complete and ready for review. Once it is complete, we seek to have a decision to you inside of six weeks. We know that you have all worked hard on your application. I assure you we are processing and reviewing your applications thoughtfully as well.
Early decision application deadlines around the land are fast approaching. November 1, November 15 (our deadline), whatever the deadline of the school you are applying early to is, you know well that the clock is ticking! We make our admissions decisions on a rolling basis and have been reviewing applications for months now. Practically speaking, what that means is we already have over 100 students admitted for the class of 2019! It also means that the 30+ applications stacked to the left of me are not going to review themselves. I've got a lot of work to do!
Whether schools are making rolling decisions or not, most seek to have all letters out to applicants before the winter holiday. The bulk of our review here at Wake Forest will indeed take place in November and the first few weeks of December. Once you submit your application, we encourage you to track your application status on your Window to Wake Forest page. Give us a week or so after submitting before checking, however – we do a handful of manual processes here which require some extra steps (as I've noted before, we still read paper applications!). In terms of your chances of being admitted, it does not matter when your application becomes complete. There is no advantage at all to being read early or late in our process.
We all know that Tom Petty was correct when he sang "The Waiting is the Hardest Part." Anxiety is naturally high this time of year. You may still have regular decision or scholarship applications to work on. For many, the first semester of the senior year will come to a close in December (meaning final exams). Looking forward, I am sure it is easy to dream of your final months of high school with less work to do than is the case now. Senioritis, senior slack, whatever you call it, it's natural to want to catch some and enjoy the symptoms that come with it. Thus, you may find yourself thinking, "Calc is just so hard. I was admitted ED to Totally Awesome University. I'm going to drop it and add a free period." Or, "There is no way I am taking the AP English Lit exam. I know I'll bomb it. I'm just going to drop down into regular English. Favorite State College won't care."
Take my advice. Don't do it. Don't call the school that admitted you and ask if you can drop AP Physics or H European History or any class at all. If you call or email us and ask if you can alter your schedule, we are going  to say "No." Our policy at Wake Forest is simple – changes to your curriculum constitute a material change to your application and will result in a re-evaluation of the admission decision. In other words, you will put into jeopardy your admission if you change your schedule. If you change your schedule anyway and we find out later in the year when reviewing final transcripts, well, suffice to say that would not be a good thing.
I had a terrific conversation with the counselor of an admitted applicant earlier this week on this issue. The student, a fine one whom I cannot wait to welcome next August, wanted to drop AP Spanish Language. The counselor told me that the student enjoys the class but that the challenge of the material is significant. That said, she was apparently on track to likely earn a B, perhaps even (gasp!) a B-. Now, don't take this as license to do poor work, but I assure you we are much more interested in knowing you are still invested in learning difficult material than whether or not you earn your first B-!
My guess is that other colleges and universities have similar policies in place. Being admitted early decision is not license to lighten your academic load nor does our call for rigor and challenge in your curriculum soften. When you get the good news, rejoice! After the celebrating is done, look forward to what remains of your senior year as an opportunity to read, write, discuss, learn, and grow, for your own good now and for the good of your life going forward.
As we close in on our first application deadline of the year (November 15 – Early Decision) and with more and more regular decision applications arriving daily, I figure it is a good time to remind prospective applicants about our Window to Wake Forest.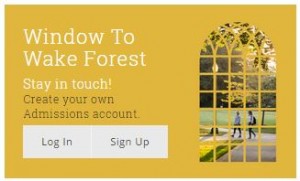 The Window to Wake Forest is an online portal which allows you to learn more about areas of specific interest. The Window includes a checklist of application materials, allowing you to track the status of your application. You can register for campus admissions events on your Window as well. Finally, the Window is our primary means of informing prospective students of any and everything application related. It's basically a geyser of knowledge at your disposal (hyperbole intended!).
So if you have a Window to Wake Forest account, log in here and check it out – we've recently added some content and made some changes. If you don't have an account, create one here – it takes but a few minutes and we think you will find the tools useful. We look forward to seeing you online soon!