Main Content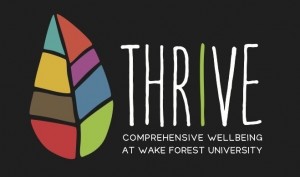 The campus-wide kick-off of "Thrive: A Comprehensive Approach to Wellbeing" will take place here on Friday, September 5. An event for all Wake Forest University faculty, staff, and students, it will feature a festival designed to inform and inspire the campus community to think differently about their personal approach to wellbeing.
Light-hearted activities involving puppies, a labyrinth, and hundreds of three-foot tall leaves will help the campus community consider serious topics such as financial planning, work satisfaction, intellectual engagement and spirituality. At the center of the event, a 90-foot long, three-dimensional, leaf-shaped installation will represent Wake Forest's holistic approach to wellbeing.
Committed to the tradition of educating the whole person, Wake Forest has always promoted a culture of health and wellbeing. I confess to playing my share of table tennis matches against colleagues on Hearn Plaza and to listening to friends play on our outdoor piano steps from the arch but a few feet away. It's not all "Work Forest" around here … not at all.
To learn more about wellbeing initiatives at Wake Forest, visit our Thrive website.
Recent Posts
August 4, 2020

July 6, 2020

June 9, 2020