Main Content
Are you talented in art, dance, debate, music or theatre? Are you interested in continuing to paint, prance, argue, sing or act in college? If you answered "yes," you may be a good fit for our talent-based scholarship at Wake Forest – The Presidential Scholarship.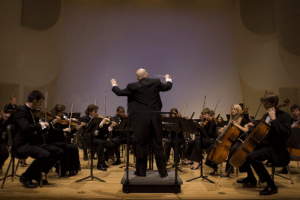 What is it? The Presidential Scholarship is a $16,000 per year award and is designated for students with significant talent in dance, music, theatre, art and debate. This talent-based scholarship is one for which you must complete an additional application. It consists of a sample of your work, whether that be a video of you performing on stage or a portfolio of your studio artwork. Why the additional application? The Admissions Committee wants to be sure that our faculty members get to see your work. When you submit a Presidential Scholarship application, that sample of your work goes to that specific arts department to be evaluated. So what does this mean? This means that if you want your talent in the arts to be considered as part of your application, we ask that you submit an application for the Presidential Scholarship in lieu of an arts supplement to the regular application. "May I apply for more than one," you ask? Certainly! Just know that you can be awarded a Presidential Scholarship in only one area.
Where is this application? It has been newly updated for electronic submission and is located on our Presidential Scholarship for Distinguished Achievement webpage.
In short, if you are looking to contribute your artistic talent to the Wake Forest community, start working on your portfolio now and submit that Presidential Scholarship application by December 1st!
Lori Pilon '12
Assistant Dean, Merit- and Talent-Based Scholarships
Recent Posts
August 4, 2020

July 6, 2020

June 9, 2020