Letters were mailed yesterday to all students on our active wait list who indicated that they were interested in receiving an offer of admission as late as August 1. Our class remains over-enrolled to the extent that we can now say with certainty that we will not be admitting any students off of the wait list this year.
As I noted earlier in March, the vast majority of our pool was comprised of applicants who will be fantastic college students and who would do wonderful work here at Wake Forest if given the opportunity. We were fortunate to receive applications from so many accomplished students yet were charged with the task of enrolling 1250 of you. In years past, we have needed to admit students from our wait list to reach that goal. This year has just been a "different year" for us and as such a different year for our wait list. Thank you for your patience with us and best of luck as you prepare for your first days of college, but a few weeks away.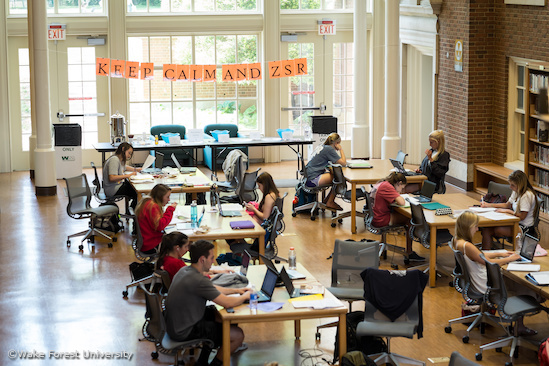 Our 2015 Undergraduate Admissions Application is live and ready to be completed! Our penchant for asking a number of short response questions has not changed – this year there are six questions which we hope you will find thought-provoking. In addition, students completing our application will be asked to first watch a short video prior to constructing a response. All told, we have designed these questions in an effort to better understand your intellectual passions, your interests in the world around you and your character and spirit. We look forward to reading all that you choose to share with us.
Go give it a look! As has always been the case, students are welcome to complete our online application or to print out the PDF of the application and submit it via mail. Applicants are also welcome to utilize the Common Application. I assure you, we do not prefer either format over another – use whatever suits your fancy. Good luck!