Main Content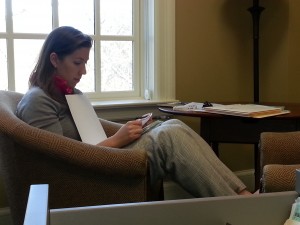 The time for reviewing your application to Wake Forest is upon us and this is arguably our busiest season of year. Days and nights are spent reading and commenting on applications. We read in our offices and our homes, at our desks or with our feet up (Dean Jennie Harris here likes her spot by the window), morning, noon and night, on weekends and . . . we essentially read everywhere, all of the time. Each member of the Admissions Committee will have applications to read and meetings to attend to talk about the applications we read now through March.
I have reviewed a few dozen applications, many of which have been outstanding. I've already found myself photocopying particularly strong responses for review later when we ponder questions for next year's application. Colleagues sigh or laugh to themselves down the hall after reading moving or amusing responses. I read a file from a young man today who referenced "I Ran" by A Flock of Seagulls – my cackle reverberated down the hall (it was really well done). Thoughts of essays, transcripts, recommendations, lists of extracurricular activities and honors and the like will spin through our brains until the task is done and decision letters are mailed out in late March.
We are still receiving requests from students asking for the opportunity to interview with us. The time has necessarily come for us to devote all of our energy to reviewing applications. Frankly, if we did not we wouldn't get them all reviewed. Interviews have concluded for this year's applicant pool.
Finally, thank you for continuing to wait patiently while we process your application documents. We are on track to have every document submitted to us either electronically or via mail processed and in your file by February 1.
Recent Posts
August 4, 2020

July 6, 2020

June 9, 2020