Main Content
First, thank you to everyone who has applied! The first week of January has come to an end and, generally speaking, we feel good about where things are from a processing standpoint (I need to find a big piece of wood to knock on right now).
Those who applied via the Common Application remember well how it works. First, you completed your application and supplement. Then, you "assigned recommenders" – school counselors and teachers – to complete supporting documentation on your behalf. If you used the Wake Forest application, you too may have teachers and counselors who are using an online delivery system to send documentation to us separate from your actual application.
On our end, these documents are accessible in two distinct places. First, we download your application and supplement as this officially starts your "file." While technically two pieces, we try to download them both together. There are times when applicants submit the supplement days or even weeks after having submitted the application – we download such supplements periodically (the Common Application does not allow students to submit a supplement without having submitted an application). We have spent the better part of the last couple of weeks downloading and printing – again, we read applications on paper, not online – your applications and supplements. As noted in the previous post, because of technical issues with the Common Application website on January 1 we will continue to accept applications through Friday, January 10.
Soon we will begin downloading and printing the documents submitted by your "recommenders" – your school reports, transcripts and recommendations. Over the course of the next few weeks, these documents will be populated on your Window to Wake Forest account. Our goal is to have every document, whether submitted electronically or via good old-fashioned mail, entered into our database and added to your physical application file by February 1. As noted in earlier posts, should February 1 come and go and your account not accurately reflect what you or your school submitted on your behalf, please contact our office. We will either assure you that the documents you are inquiring about have successfully arrived or will suggest a secondary method of submitting what is missing.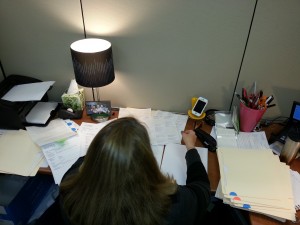 As I am sure you can imagine, application processing – from putting your materials together to review – is a monumental task. Members of the Admissions Committee pitch in between application reads and other responsibilities to file and assist with data processing. Our support staff is a phenomenal group, often working late or on the weekends in an effort to put your applications together. Thanks to the work of folks like Sue here (who made a mean cornbread for our Polar Vortex Day celebration today!), we will put your applications together for review, one submitted document at a time!
Recent Posts
August 4, 2020

July 6, 2020

June 9, 2020