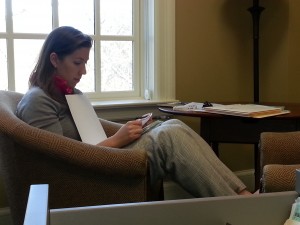 The time for reviewing your application to Wake Forest is upon us and this is arguably our busiest season of year. Days and nights are spent reading and commenting on applications. We read in our offices and our homes, at our desks or with our feet up (Dean Jennie Harris here likes her spot by the window), morning, noon and night, on weekends and . . . we essentially read everywhere, all of the time. Each member of the Admissions Committee will have applications to read and meetings to attend to talk about the applications we read now through March.
I have reviewed a few dozen applications, many of which have been outstanding. I've already found myself photocopying particularly strong responses for review later when we ponder questions for next year's application. Colleagues sigh or laugh to themselves down the hall after reading moving or amusing responses. I read a file from a young man today who referenced "I Ran" by A Flock of Seagulls – my cackle reverberated down the hall (it was really well done). Thoughts of essays, transcripts, recommendations, lists of extracurricular activities and honors and the like will spin through our brains until the task is done and decision letters are mailed out in late March.
We are still receiving requests from students asking for the opportunity to interview with us. The time has necessarily come for us to devote all of our energy to reviewing applications. Frankly, if we did not we wouldn't get them all reviewed. Interviews have concluded for this year's applicant pool.
Finally, thank you for continuing to wait patiently while we process your application documents. We are on track to have every document submitted to us either electronically or via mail processed and in your file by February 1.
First, thank you to everyone who has applied! The first week of January has come to an end and, generally speaking, we feel good about where things are from a processing standpoint (I need to find a big piece of wood to knock on right now).
Those who applied via the Common Application remember well how it works. First, you completed your application and supplement. Then, you "assigned recommenders" – school counselors and teachers – to complete supporting documentation on your behalf. If you used the Wake Forest application, you too may have teachers and counselors who are using an online delivery system to send documentation to us separate from your actual application.
On our end, these documents are accessible in two distinct places. First, we download your application and supplement as this officially starts your "file." While technically two pieces, we try to download them both together. There are times when applicants submit the supplement days or even weeks after having submitted the application – we download such supplements periodically (the Common Application does not allow students to submit a supplement without having submitted an application). We have spent the better part of the last couple of weeks downloading and printing – again, we read applications on paper, not online – your applications and supplements. As noted in the previous post, because of technical issues with the Common Application website on January 1 we will continue to accept applications through Friday, January 10.
Soon we will begin downloading and printing the documents submitted by your "recommenders" – your school reports, transcripts and recommendations. Over the course of the next few weeks, these documents will be populated on your Window to Wake Forest account. Our goal is to have every document, whether submitted electronically or via good old-fashioned mail, entered into our database and added to your physical application file by February 1. As noted in earlier posts, should February 1 come and go and your account not accurately reflect what you or your school submitted on your behalf, please contact our office. We will either assure you that the documents you are inquiring about have successfully arrived or will suggest a secondary method of submitting what is missing.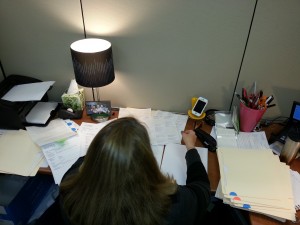 As I am sure you can imagine, application processing – from putting your materials together to review – is a monumental task. Members of the Admissions Committee pitch in between application reads and other responsibilities to file and assist with data processing. Our support staff is a phenomenal group, often working late or on the weekends in an effort to put your applications together. Thanks to the work of folks like Sue here (who made a mean cornbread for our Polar Vortex Day celebration today!), we will put your applications together for review, one submitted document at a time!
Due to technical problems experienced by Common App users on January 1, we will continue to process Fall 2014 applications submitted through January 10.  Please visit http://admissions.wfu.edu/apply/apply.php for other submission options should these issues remain unresolved. We continue to offer an online version of our Wake Forest University application which you are welcome to use!
If you have already submitted your application, thank you! We look forward to reading it soon. You may follow the status of your application file through your Window to Wake Forest account at https://wfu.askadmissions.net/vip/.  After February 1, should your account not accurately reflect what you or your school submitted on your behalf, please contact our office. We will either assure you that the documents you are inquiring about have successfully arrived or will suggest a secondary method of submitting what is missing.
We know this is an anxious time for students applying to college and that the technical issues you are facing have made this year particularly trying. Our Admissions Committee is comprised of parents of college students as well as recent college grads who remember well the application process. Curmudgeonly ruthless we are not, understanding are we (channel your inner Yoda for that one). I assure you that none of these issues will have any bearing whatsoever on how your application is reviewed.