Main Content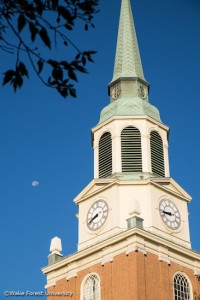 Wait Chapel and its four clock faces. Apropos here as the proverbial clock is indeed ticking with New Year's Day but three days away. We know that many of you are finalizing your applications and appreciate your efforts. I apologize for repeating information from an earlier post but this information will remain highly relevant to all applicants throughout the first 4-6 weeks of 2014.
Again, our Regular Decision deadline is January 1. You are allowed to work on it all day Wednesday before clicking submit. Once submitted, we ask that you not contact our office to see if your application has been received. It will take a handful of weeks for applications, regardless of how they were submitted, to be processed and entered into our system. The same holds true of supporting documents (school reports, teacher recommendations and the like). We encourage you to track your own application status on your Window to Wake Forest account page.
After February 1, if you feel that your Window to Wake Forest account does not accurately reflect what you or your school submitted on your behalf, feel free to contact our office. We will either assure you that the documents you are inquiring about have successfully arrived or will suggest a secondary method of submitting what is missing.
A note about interviews – your application status will remain "incomplete" if you did not have an interview until mid to late January. It is then that we will remove "interview" from the application checklist for those who did not interview with us.
Finally, we can no longer accept interview requests – whether you desire to interview on campus or via Skype, our schedule is completely full for the remainder of our interview season.
We will continue to provide updates throughout the review season. In the meantime, we wish you all the best as you finish up your applications. Happy New Year!
Recent Posts
August 4, 2020

July 6, 2020

June 9, 2020