Main Content
I interviewed a young man via Skype from Tennessee this morning who excitedly announced he had just taken his last first semester examination and that he was officially halfway through his final year of high school. I was happy for him yet reminded myself NOT to tell this story to my own children who will be in school through Friday! Still, for all high school seniors this is an exciting time – soon for the countdown to high school graduation will begin. I will now have Pomp and Circumstance stuck in my head the remainder of the day!
AND YET, there is still the business of completing college applications at hand. Our Regular Decision deadline is January 1. You have the 1st itself – use all of New Year's Day, if necessary! Once submitted, we ask that you (or your parents, counselors, best friends, etc.!) not contact our office to see if your application has been received. It will take a handful of weeks for applications, regardless of how they were submitted, to be processed and entered into our system. The same holds true of supporting documents (school reports, teacher recommendations and the like). We encourage you to track your own application status on your Window to Wake Forest account page.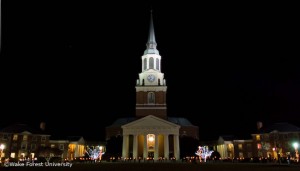 After February 1, if you feel that your Window to Wake Forest account does not accurately reflect what you or your school submitted on your behalf, feel free to contact our office. We will either assure you that the documents you are inquiring about have successfully arrived or will suggest a secondary method of submitting what is missing.
A note about interviews – your application status will remain "incomplete" if you did not have an interview until mid to late January. It is then that we will remove "interview" from the application checklist. Unfortunately, we can no longer accept interview requests – whether you desire to interview on campus or via Skype, our schedule is completely full for the remainder of our interview season.
Our office and others across campus will close early Friday afternoon and will not reopen until December 30. We will close again early on the 31st before reopening for good on January 2. It is then that the task of processing and reviewing thousands of applications will begin in earnest, when we will learn, among other things, what book you would discuss with your roommate over coffee at Campus Grounds and what has outraged you to the point of action. It is a task both worth doing and enjoyable. We thank you for your thoughtfulness and wish you a happy holiday season!
Recent Posts
August 4, 2020

July 6, 2020

June 9, 2020