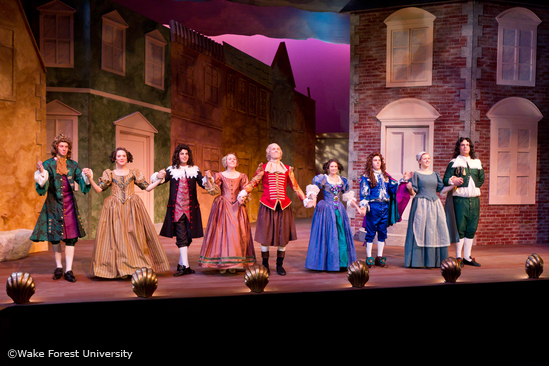 You've read about our merit-based scholarships and now perhaps you're wondering, "Are there any other scholarships for which I can apply?" The answer is yes! Our talent-based scholarship at Wake Forest is called The Presidential Scholarship.
The Presidential Scholarship is $16,000 a year and is designated for students with significant talent in dance, music, theatre, art and debate. As a Presidential Scholar, you are not required to major or minor, but the expectation stands that you will be involved in the department and contributing to Wake Forest's artistic culture. Each department has slightly different requirements for Presidential Scholars but none require the major or the minor. This talent-based scholarship is one of very few scholarships for which you must complete an additional application. It consists of a sample of your work, whether that be a video of you performing on stage or a portfolio of your studio artwork. Why the additional application? Simply put, I don't know a thing about a quality theatre monologue but the theatre department does. When you submit a Presidential Scholarship application, that sample of your work goes to that specific department to be evaluated. So what does this mean? This means that if you want your talent in the arts to be considered as part of your application, we ask that you submit an application for the Presidential Scholarship in lieu of an arts supplement to the regular application. May I apply for more than one, you ask? Certainly! Just know that you can be awarded only one, not two.
If you are a finalist for the scholarship, you will be invited to campus (around late February/early March) to interview, to audition and to get the full immersion experience of being a Wake Forest student and artist. I know I appreciated having those two days on campus to stay with a current freshman, to experience the life of a dancer on campus and to realize that Wake Forest was the perfect place for me as an academic and as an artist. Recipients are notified by the end of March.
In short, if you're looking to contribute your artistic talent to the Wake Forest community, send in that Presidential Scholarship application by December 1st!
Lori Pilon '12
Assistant Dean, Merit- and Talent-Based Scholarships
Recent Posts
May 27, 2021

May 5, 2021

April 26, 2021