Main Content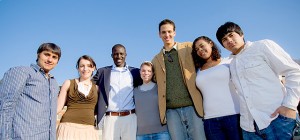 Curious about diversity at Wake Forest? We offer several opportunities to explore our diverse community. If you are interested in learning more about multicultural life, join us for one of our prospective student diversity recruitment events:
Wake Forest VIP Program – Meet us in your backyard, or close to it! Each fall, Wake Forest University hosts diversity recruitment events during our travel season. The VIP diversity recruitment programs take place off-campus in cities along the east coast. VIP is open to high school seniors and their families. For more information about locations and to request your space in the program, please visit our VIP Program website.
Wake Forest Visions Program – Visit us at the Forest! Visions is our on-campus diversity overnight event. The program is open to prospective seniors and families. Visions will take place October 13-14 and November 10-11 this year.  Students must apply to attend the Visions overnight program. For program and application information, please visit our Visions Program website.
We look forward to seeing you!
Hattie L. Mukombe '04, MA '11
Recent Posts
August 4, 2020

July 6, 2020

June 9, 2020