Main Content
As current high school students, you are taught by wonderful teachers every day. You value the relationships you have formed with them as you investigate material and discuss new ideas together. Three of the members of the Admissions Committee were once school teachers. I myself taught for four years at a terrific high school here in North Carolina. Thus understand why, when talking to prospective students about Wake Forest's commitment to the teacher-scholar model, I often strike a wide smile.
As you explore Wake Forest, I encourage you to read articles from our online "Teaching Spotlights" series and learn just how much our faculty values teaching. Steve Giles, Associate Professor of Communication and Director of Graduate Studies perhaps sums it up best:
The teacher-scholar model is for real. It doesn't mean we (faculty) always get it right. Like students, we struggle sometimes to meet a variety of demands on our time. But as a value the teacher-scholar model is palpable. The University invests enormous resources into teacher training, initiatives to and programs that foster professor-student relationships, and incentives that promote high quality teaching. I cannot imagine any professor coming to Wake Forest who does not share that value. I equally cannot imagine any professor earning tenure here who does not maintain certain standards for pedagogy. And that is NOT the case at many other Universities.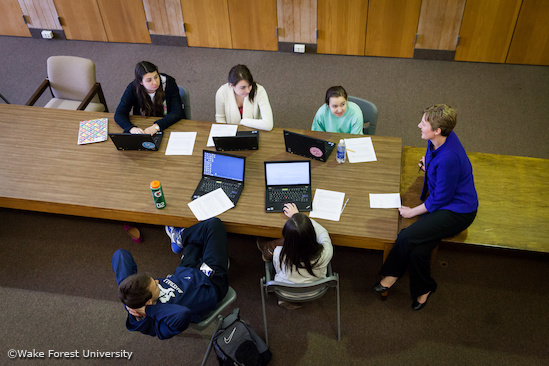 Recent Posts
August 4, 2020

July 6, 2020

June 9, 2020